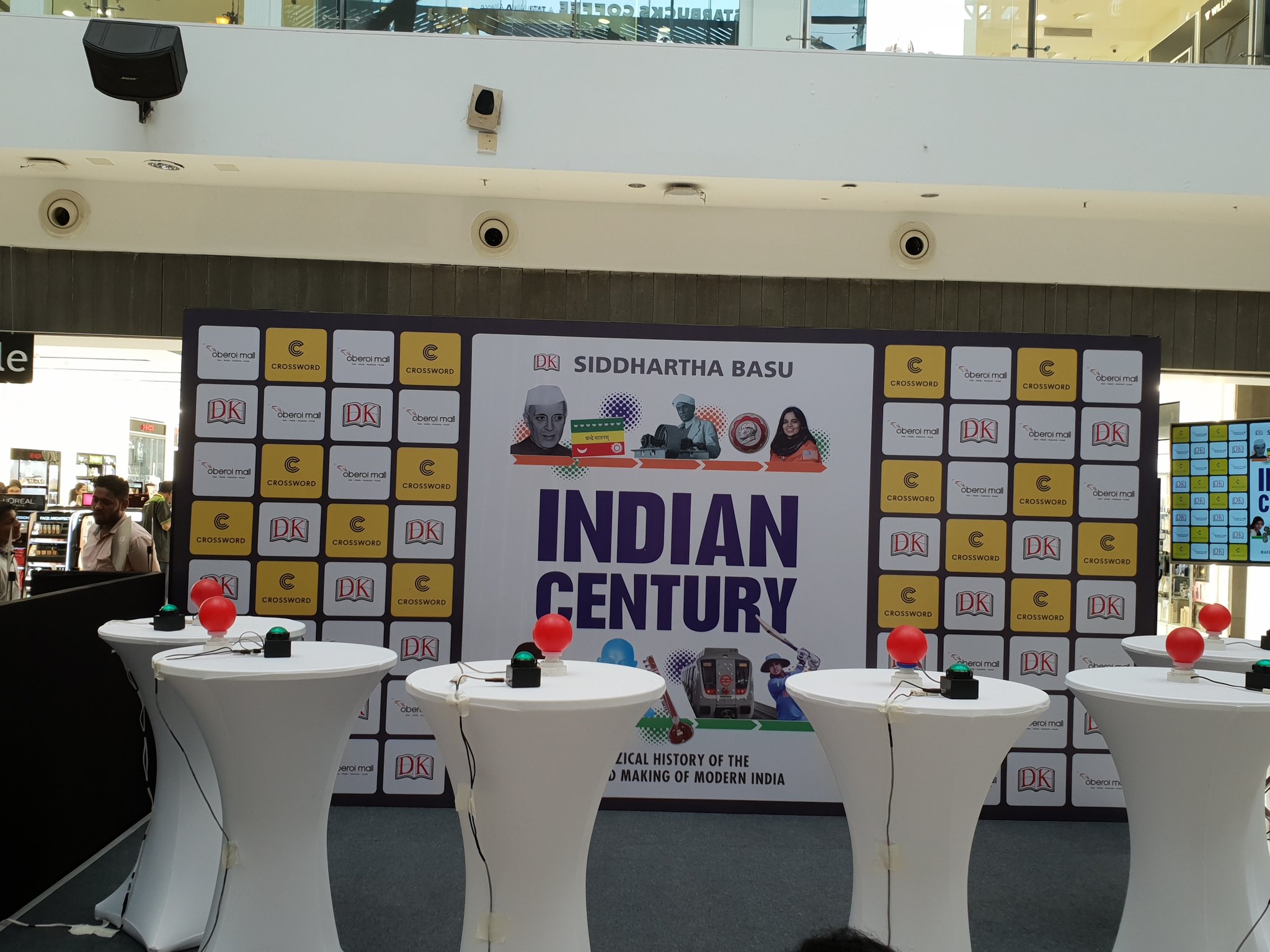 Crossword Bookstores has evolved into a center for communities to connect with the literary world and the intellectual world.
It has pioneered the entire experience of attending interactive sessions with authors, bringing readers closer to them that ever before, and changing the way books are being consumed today.
To launch quizmaster Siddhartha Basu's book, 'A Quizzical History of the Makers and Making of Modern India', Crossword Bookstores organised a live quiz at the Oberoi Mall atrium.
Eager quiz enthusiasts, who have enjoyed shows such as Kaun Banega Crorepati and Mastermind India, lined up to see the man and take part in the event. The book is a curation of the choicest of events, iconic personalities, and benchmark institutions that have shaped our country over the last century. In the words of Amitabh Bachchan himself, " I have been a great admirer of documentation; and equally lament its limited existence in our country. To come across this very noble and necessary effort being made by dear friend and colleague, Siddhartha Basu, is an absolute delight."
Packed with more than 250 stunning images, the book visually documents the evolution of modern India and provides much-needed insight into our political landscape. It features milestone events from each year of the past century and gives a glimpse into the lives of the game changers—people who helped shape modern India.
Indian Century is divided into two parts. The first, the Headlines section showcases dramatic events, the rise of landmark institutions, political evolution and changing socio-cultural landscapes of India.
Snapshots, the second section, elucidates the lives and achievements of the most iconic personalities of 20th-century India in a question and answer format, making it easier for the reader to capture information and gather facts quickly.
Speaking about the book, Mr Basu said: "The 20th century is where the hinge of history turned for modern India. This book, timed to release as the country completes 70 years of independence, recounts the milestones of that century, and of the millennial years that follow, together with thumbnail profiles of many of its major players. For me, the best quiz facts always open up layers of little or lesser-known details. This is a curated collection of facts I find fascinating about the events and people that have shaped the India we know today."
Maulik Desai, Head, Crossword Bookstores says, " Authors like Siddhartha Basu  have created a new reading category for an entire generation. His name needs to introduction, in the remotest corners of India. I believe that parents must invest in a little library of his books, for their children, as these form a valuable source of information for competitive test takers and UPSC aspirants."
Mr. Anupam T. Vice-President Oberoi Mall said, "We at Oberoi Mall are extremely proud to have hosted Mr Basu who is considered the foremost authority on quizzing in India and having changed the landscape of Indian television. Oberoi mall takes great pride at being associated with events of such noteworthy stature that gives our patrons a wholesome experience. We strive to be the destination mall for experiences and families. Oberoi mall's endeavours have tenaciously been directed towards placing the mall on the map of the best shopping destination in Mumbai. The evolution brought through the mall with respect to unique events such as these, to functionality and operations, personifies into a dynamic experience for the guests. We also thank Crossword for organizing a knowledge event like this."
About the author
Siddhartha Basu is an award-winning television producer, director, and India's foremost quiz master.The man behind landmark shows such as Kaun Banega Crorepati and Mastermind India. He was the founder director of Big Synergy, one of the top production houses in India and is currently the Founder and Director of Tree of Knowledge, a content and learning based company. He lives in New Delhi and Mumbai.
Grab the copy here-
Indian Century: A Quizzical History of the Makers and Making of Modern India by Siddhartha Basu
ABOUT CROSSWORD BOOKSTORES
In its 26th year, India's leading bookstore chain, Crossword Bookstores which has pioneered the lifestyle bookstore concept in India, has evolved to emerge as a culmination of cultural and social interaction for customers as well as authors and poets.
It currently operates 89 stores across the country.
About Oberoi Mall
The Oberoi Mall is located at Goregaon (East) on the Western Express Highway and offers almost 5.52 lakh square feet of Fun, Food, Fashion and Films. It has occupied a significant position in the minds of customers and retailers. By reflecting and enabling customers' lifestyles and delivering affordable luxury with a philosophy of 'customer first', the Mall has distinguished itself as something truly special on the retail landscape. Pioneered by the real estate development company, Oberoi Realty Ltd. (popularly known as Oberoi Constructions) Oberoi Mall has found a unique niche amongst quality conscious and discerning customers and offers facilities that include two levels of basement with a parking capacity for approximately 1,000 cars, a large central atrium with natural light, elevators and escalators for internal circulation, central air-conditioning and an integrated building management system.